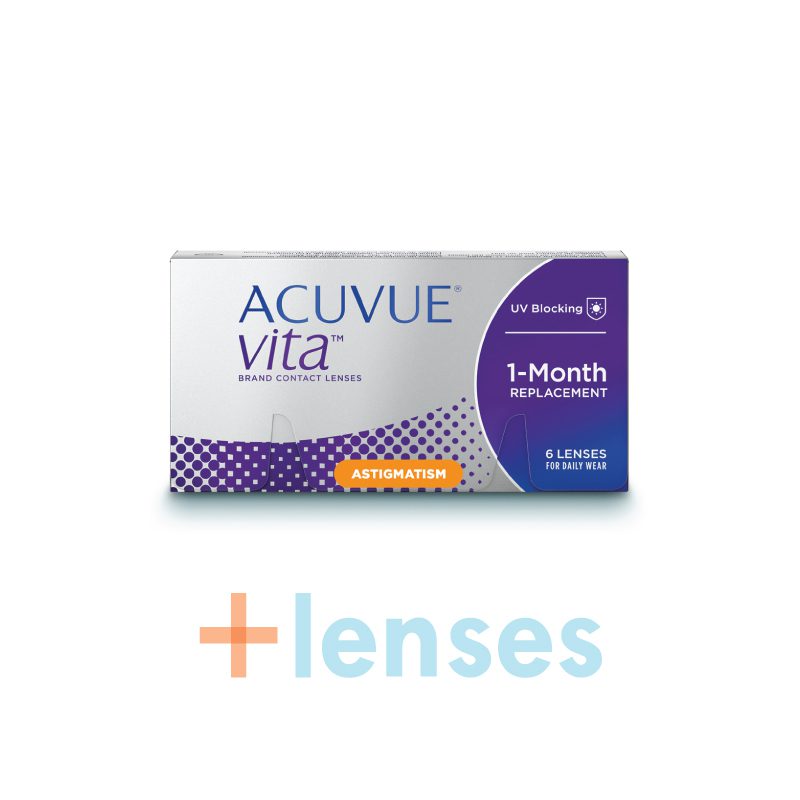 Acuvue Vita for Astigmatism
Acuvue Oasys for Astigmatism ®
Johnson&Johnson
bi-monthly soft lens
Box of 6, 12 lenses
6 lenses CHF 35.75
12 lenses CHF 69.40
Free shipping from CHF 180

Description
Acuvue Vita for Astigmatism

■ Features:
Acuvue Vita for Astigmatism
Exceptional wearing comfort
With Hydraclear Plus
Best UVA / UVB protection
Handling tint
Place and time indicator
Hydrophilic 38%.
- Diameter: 14.00 mm
- Radius (BC): 8.60 mm
- Powers:

-9.00 to -6.50 per 0.50
-6.00 to 0.00 per 0.25
+0.00 to +6.00 per 0.25
- Cyl: -0.75 -1.25 -1.75 -2.25
- axes from 0° to 180° by 10° steps
- Type of wear: 15 days with nightly removal
- Maintenance: yes, multifunctional solution or oxidizing solution
- Packaging: box of 6, 12 or 24 lenses
- Indications: Astigmatic ametropia and presbyopia in monovision

■ Shipping:

- By mail or pick up in store

- Availability within 48 hours

- Free of charge from 180 CHF purchase

- No customs fees

Your Acuvue Vita lenses for Astigmatism at your optician Art:Optic Pully Lausanne at the best price www.artopticpully.ch
Check your contact lenses regularly at your optician Art:Optic in Pully.
Simply make an appointment by clicking on this link
■ Ask for Acuvue Vita for Astigmatism ® if you:
Have astigmatism.
Want to wear a contact lens that feels comfortable without making you look like you're wearing contacts.
Want to wear contact lenses with an ultra-smooth feel that helps your eyelids slide easily over your lenses.
Need a contact lens that will stay in place to give you clear vision*.
Spend a lot of time working at your computer.
Spend time in heated or air-conditioned environments.
Prefer reusable contact lenses to be replaced during 1 month.
Look for UV protection built into the reusable lens.
Accelerated Stabilization Technology (ASD) uses the natural force of your eye blinks to help keep the contact lenses in place and give you clear vision, no matter how your head or eyes move.

With an average of 11,000 blinks a day, the lids of your eyes travel the distance of a marathon 1 each year. ACUVUE® OASYS® contact lenses help make the movement of your eyelids less tiring.

ACUVUE® VITA for ASTIGMATISM with HydraMax™ Technology is a monthly toric lens for patients who want a full month of comfortable lens wear. It is a non-coated silicone hydrogel formulation balanced to help maximize and maintain hydration throughout the lens. It also features the BLINK STABILIZED® design that works with natural eyelid movements to help keep the lens in the right position even with head and eye movements.
ACUVUE VITA® Brand Contact Lenses for ASTIGMATISM offer reliable, consistent performance all month long.
3 out of 4 ACUVUE® VITA wearers for ASTIGMATISM report clear, crisp and stable vision, even with head and eye movement.
ACUVUE® VITA for ASTIGMATISM is the ONLY monthly lens with Class 1 UV blocking*.
ACUVUE® VITA for ASTIGMATISM offers 24-hour coverage where you need it most, from low minus, plano to -6.00 D, down to -1.75 DC. The ACUVUE® VITA® family covers nearly 96% of spherical and astigmatic eyes.
Similar products