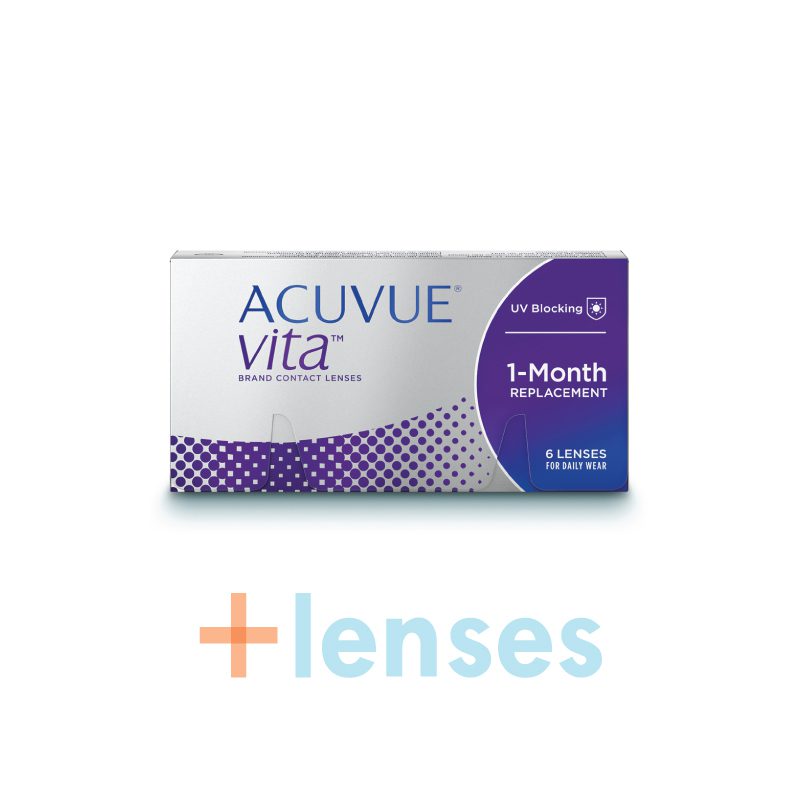 Acuvue Vita
Acuvue Vita
6 or 12 lenses
Johnson&Johnson
monthly soft contact lens
6 lenses CHF 30.50
12 lenses CHF 69.90
Free shipping from 180 CHF
Description
Acuvue Vita

■ Features:
Acuvue Vita  
98% oxygen permeability
Material: Senofilcon C
UVA / UVB protection class 1
Handling tint
- Diameter: 14.00 mm
- Radius (BC): 8.40 mm and 8.80 mm
- Powers:
-12.00 to -6.00 per 0.50
-6.00 to -0.50 by 0.25
+0.50 to +8.00 per 0.25
- Type of wear: daily renewal 30 days
- Maintenance: Mutifunction Solution
- Packaging: box of 6, 12 lenses
- Indications: Spherical ametropia and presbyopia in monovision
■ Shipping:

- By mail or pick up in store

- Availability within 48 hours

- Free of charge from 180 CHF purchase

- No customs fees

Your Acuvue Vita lenses at your optician Art:Optic Pully Lausanne at the best price www.artopticpully.ch
Check your contact lenses regularly at your optician Art:Optic in Pully.
Simply make an appointment by clicking on this link
■ Ask 1 Day Acuvue Vita if you:
Acuvue Vita
 consider your eye health a priority.
 want contact lenses that feel comfortable and natural.
 want the best UV protection available in a daily lens
 are myopic or hyperopic.
 are very busy and never know when the day will end.
 prefer the monthly lens budget
If you lead an active life and need lenses that go everywhere with you, get Acuvue Vita

A PERMANENT COMFORT

ACUVUE VITA ® with HydraMax ™ technology provides superior comfort all month long.
Key messages for patients
Provides superior overall comfort among other leading monthly lenses
Rated superior for "overall quality of vision" among leading monthly lenses
Provides the highest level of UV protection available in a contact lens
HydraMax ™ technology is a coating-free silicone hydrogel formulation balanced to help maximize and maintain hydration, with a design that incorporates tear film lipids to help protect against evaporation.
ACUVUE VITA ® contact lenses are ideal for
Current monthly contact lens wearers looking for a lens that offers superior comfort that lasts all month. 1
Lenses manufactured by Johnson&Johnson laboratory
Similar products