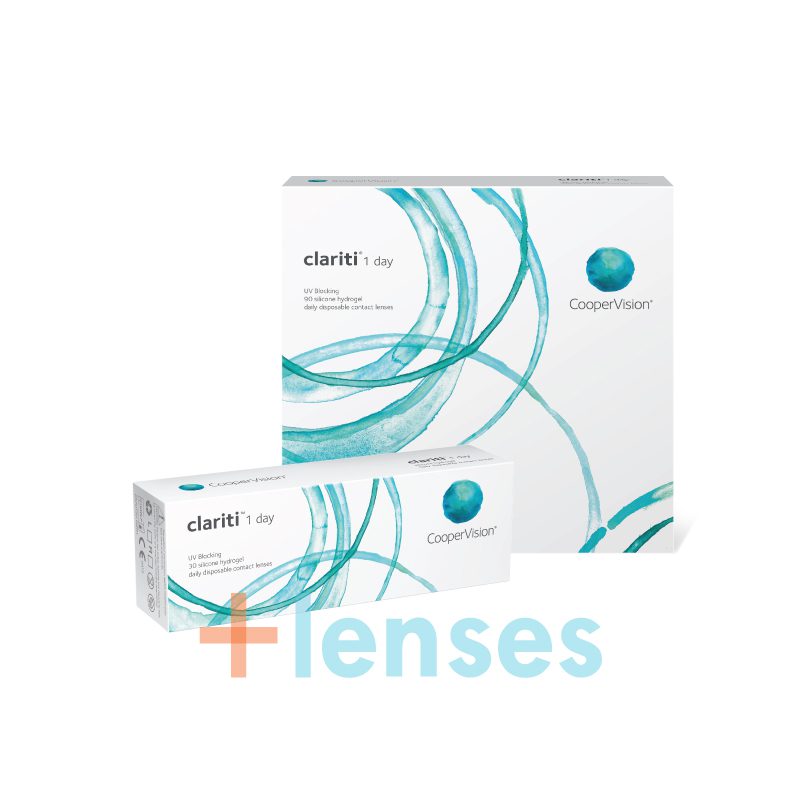 Clariti 1-Day
Clariti 1-Day ®
CooperVison
daily disposable lens
30 lenses CHF 22.80
90 lenses 59.50 CHF save 8.90-euro
180 lenses 119.00 CHF save 17.80-
Free shipping from 180 CHF

Description
Clariti 1-Day
■ Features:
Clariti 1-Day
Material: Silicone Hydrogel
UV filter
Handling shade
Hydrophilic 52
- Diameter: 14.10 mm
- Radius (BC): 8.60 mm
- Powers:
from -10.00 to - 6.00 by 0.50
from -6.00 to -0.25 by 0.25
from +0.50 to +8.00 by 0.25
- Type of wear: daily renewal 1 day
- Care: No
- Packaging: box of 30 lenses
- Indications: Spherical ametropia and presbyopia in monovision

■ Shipping:

- By mail or pick up in store

- Availability within 48 hours

- Free of charge from 180 CHF purchase

- No customs fees

Your Clariti lenses 1-Day at your optician Art:Optic Pully Lausanne at the best price www.artopticpully.ch
Check your contact lenses regularly at your optician Art:Optic in Pully.
Simply make an appointment by clicking on this link
Clariti contact lenses 1 day
If you are health conscious and looking to order affordable contact lenses, and want to feel good about your budget and your eyes, look no further than the clariti® 1 day silicone hydrogel contact lens line from CooperVision®.

With clariti 1 day, you can be sure of your eye health because you replace each lens daily: it has built-in UV protection* and is made with a healthy lens material that delivers 100% of the oxygen your eyes need. When you wear clariti 1 day contact lenses, you'll enjoy excellent vision quality and a comfortable lens-wearing experience, all at a price that will make you smile.

The anti-UV protects your eyes against the transmission of ultraviolet rays, thus promoting the health of your eyes.

The soft, highly breathable silicone hydrogel lenses keep your eyes white and healthy.

WetLoc technology and high moisture content help keep your contact lenses hydrated for excellent all-day comfort.

Optimised Comfort Edge™ for a smooth interaction between your eyes and your contact lenses.

Clariti 1 day offers all the benefits of a daily disposable silicone hydrogel lens without the high price.
Similar products