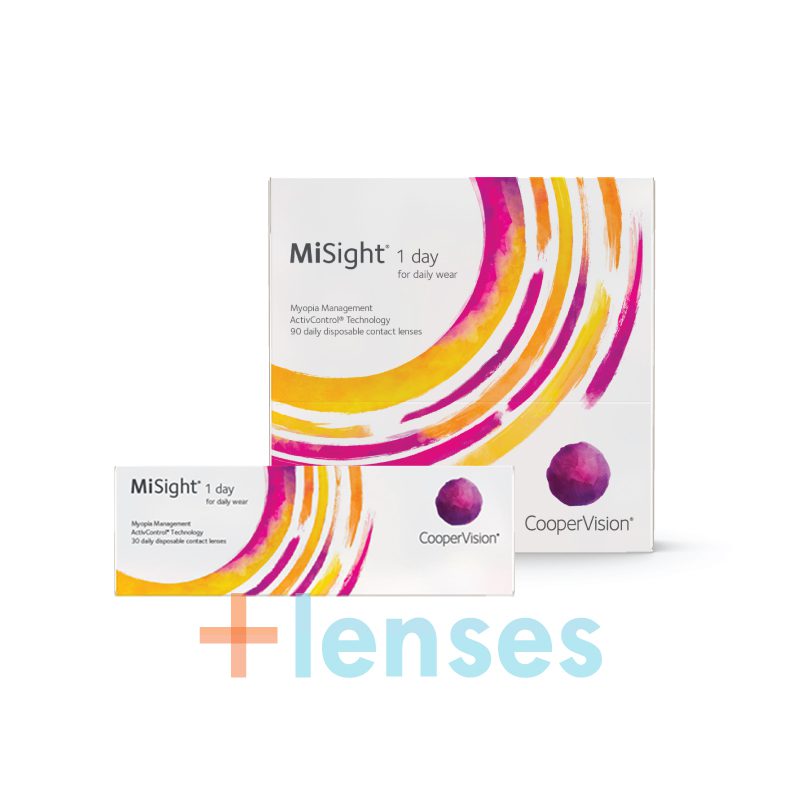 MiSight 1-Day
MiSight 1-Day
CooperVision
Daily lenses
Myopia control
By prescription with regular follow-up
at your ophthalmologist or optometrist
Box of 30 or 90 lenses
30 lenses CHF 38.00
90 lenses 109.90 CHF save 4.10-
180 lenses 209.90 CHF save 18.10-
Free shipping from 180 CHF

Description
MiSight 1-Day
■ Features:
MiSight 1-Day
Material: Omafilcon A
Handling hue: bluish
Hydrophilicity: 60%.
- Diameter: 14.20 mm
- Radius (BC): 8.70 mm
- Powers:
from -10.00 to - 6.00 by 0.50
from -6.00 to -0.25 by 0.25
- Type of wear: Daily
- Maintenance: No
- Packaging: Box of 30 and 90 lenses
- Indications: Control of myopia and progressive myopia from 8 years old.
- On prescription with regular follow-up with your ophthalmologist or optometrist
- Use only for children and teenagers already wearing MiSight lenses

■ Shipping:

- By mail or pick up in store

- Availability within 48 hours

- Free of charge from 180 CHF purchase

- No customs fees

Your MiSight lenses 1-Day at your optician Art:Optic Pully Lausanne at the best price www.artopticpully.ch
Check your contact lenses regularly at your optician Art:Optic in Pully.
Simply make an appointment by clicking on this link
MiSight 1 day
Children lead busy, active lives. Whether they are playing pretend, riding bikes with friends or learning new things at school, nearsightedness (blurry distance vision) can be a handicap to participating in their favorite activities. As they get older, nearsightedness changes, and can become more pronounced.

Fortunately, your child can benefit from solutions and innovative technology to make life easier and slow the progression of his or her nearsightedness1: MiSight 1-day contact lenses from CooperVision. With ActiveControl technology, MiSight 1-day corrects nearsightedness, and is also the first soft contact lens that significantly reduces the progression of nearsightedness in children. By wearing MiSight 1-day, your child can enjoy clear vision, freedom of movement without glasses and continue to enjoy their favorite activities.
Key features
Corrects and slows the progression of myopia by 59% in children, thanks to the special ActivControl® technology.

The safe choice for your child. Among children ages 8 to 15 who had never worn contact lenses before:
90% of children reported that they preferred to wear their MiSight 1-day lenses rather than glasses.
90% of the children were able to insert and remove the MiSight 1-day lenses by themselves.
Soft contact lenses adapted to children, easy to use.

Convenient daily disposable contact lenses: no need to clean or store them. They are single use.
Similar products